I thought I could get nowhere near. But last night I had a brainstorm.
It came after I read in Vincent's Wikipedia entry (that came up in Google Alerts yesterday) that he went to the University of Colorado at Boulder.
When I was at University at Lancaster in the early-to-mid 1970s, we had a lot of JYAs (Junior Year Abroad students) from Boulder. Every year the powers-that-be in Boulder would award a scholarship to one Lancaster student to pursue post-graduate studies in Colorado.
In 1973, my friend John Parker (who later became an actor under the name of Jack Elliott) went to Boulder's drama department, which he found in a bit of a mess and duly rearranged.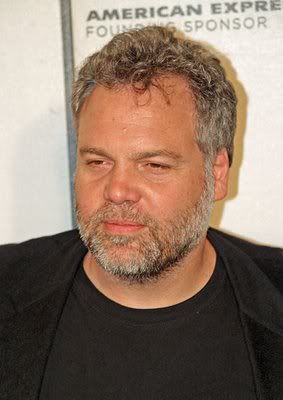 If the gorgeous Mr D'Onofrio did indeed go to Boulder (I know Wikipedia is notoriously inaccurate) and studied Drama there, he would probably have started at the age of 18, in 1977. He wouldn't have known John/Jack, but he would almost certainly have known and worked with people in theDepartment who did.
That puts me within
THREE
degrees of Vincent.
Stuff Kevin bacon.