How did I ever manage to work full time? There's just so much to do, I wouldn't be able to fit it all in.
Last week seems relaxed by comparison to this. Even though I worked three days, I managed a zoo trip. I didn't manage to get any pictures of the tamarins in the rainforest exhibit invading the walkways and tempting the humans to touch them. No doubt, without the intervention of the volunteers, a few bites and lost phones or cameras might have upset the enchanted visitors. Unfortunately I didn't have my camera out when they started to investigate my parrot-and-rainforest-pattern walking stick and contemplated climbing it.
But I did capture the clever idea someone had to both feed and entertain the meerkats. They'd dug up some old plants and their roots so the little mongooses could rummage for bugs and worms in the soil.
This weekend is promising to be more hectic than I could have imagined. Today there was an Art Deco fair at good old Eltham Palace, and I found a couple of jewellery goodies I couldn't resist: This necklace spoke to me right away, but I had to fight the urge to leave it behind (ie. more than I wanted to spend).
These three little duckies are a Lea Stein brooch. It's about an inch-and-a-half long: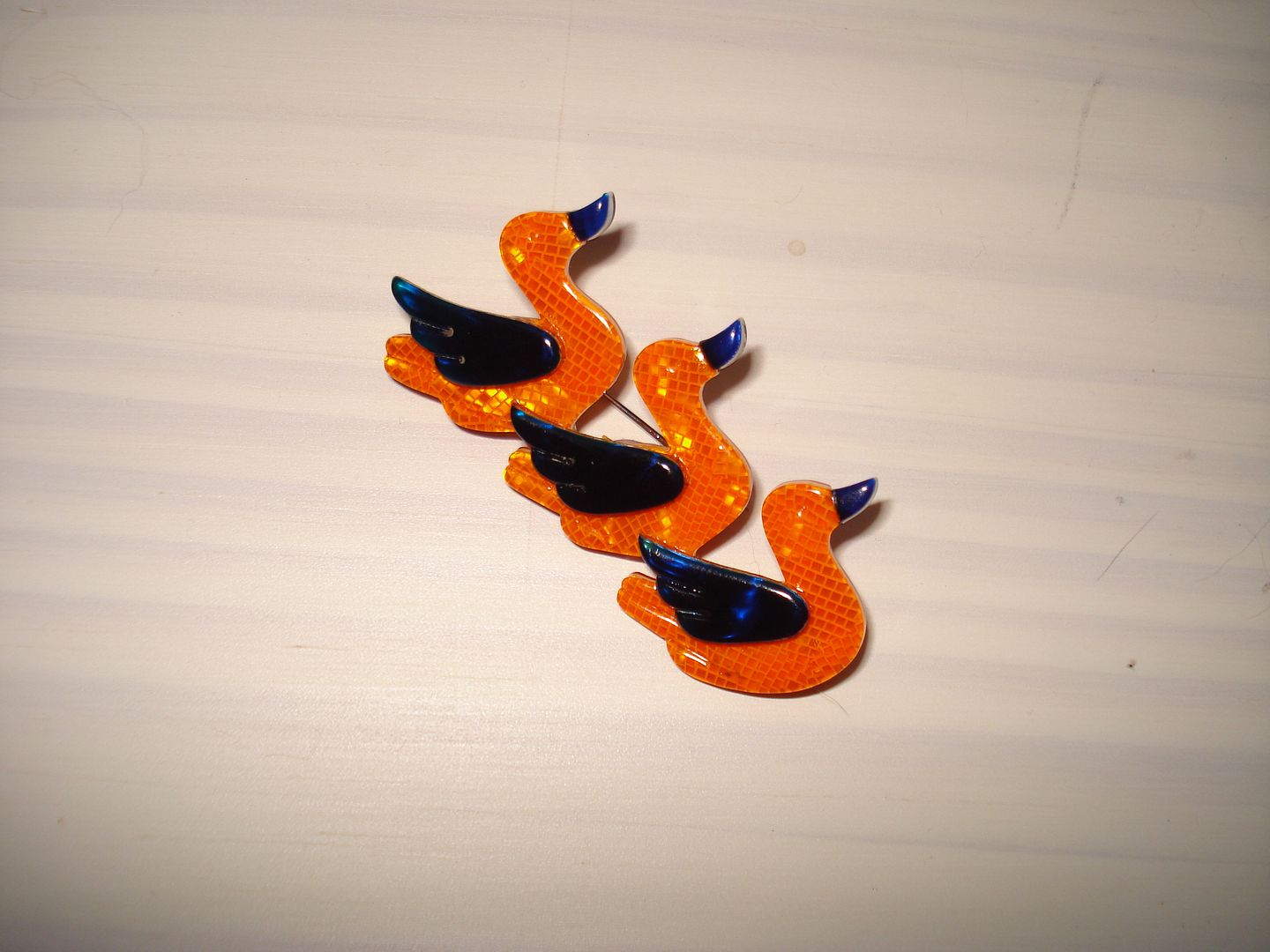 After the fair I drove my friend to a nearby church hall where her opera group was giving an afternoon tea party concert (no, not Tea Party!) I helped to get the hall ready before and cleared up afterwards (actually, mostly I lounged on a table I could have been putting away and talked to my old PE teacher, whose husband sings with the group. She's 70 now, and has suffered from MS for decades. Though wheelchair-bound for many years, she is still going strong.) Tomorrow my friend and I are off to a dolls house fair.
On Monday I will need a rest! Thank goodness for Alex's cruise.