Today was the day my neighbour/friend and I went to Flog It at the zoo.
Her husband took us there in his van, as the painting wouldn't fit in their car. On the way we passed this amazing building in Camden that I have never seen before, and had no idea what it was.
Obviously it's Art Deco, and the name Carreras was carved in the stone over the entrance. Apparently it was a cigarette factory! It's now known as Greater London House.
At the zoo we were in a rather nice suite above the restaurant. We were glad not to be queueing outside, as it was threatening to rain - and Janet had a fall last night, which left her with a very painful leg. Half the room was full of chairs, in the other half were the valuation tables and cameras.
Everyone was very friendly, and much chatting went on. It was a bit sad to see some of the stuff that people hoped might be of value, such as limited edition "collectors' dolls". They've seen porcelain dolls on other shows and think they must all be valuable, even though they are neither old nor rare, let alone quality!
For the first time ever, they asked audience members to write limericks. No one seemed to know why. Given that we had entered the zoo by Prince Albert Gate and were in the Prince Albert Suite, I based mine on the Stanley Holloway monologue, The Lion and Albert, in which the lion at Blackpool zoo eats a little boy:
I called my offering The Lion and Prince Albert:
At the zoo in the middle of London,
There are tigers and camels and lions.
Folks for Flog It did wait
At the Prince Albert Gate
And Paul Martin was fed to the lions.
When I went downstairs to the loo, I saw Paul Martin on his way out of the Gents, we smiled and said Hello, and I just dropped the comment that in my limerick he was eaten by a lion. Not sure they'd even told him about that part of the proceedings yet, so he might have thought I was mad! I was told later that he'd read it, though, and enjoyed it.
Everyone shuffled along a few seats at a time, until we were next in line for a valuation. During the last wait, Paul Martin came over and chatted, signing pictures of himself (no I didn't get one, but Janet did) and he noticed my bright orange trousers. He said he'd bought some just like them the other day, and yesterday was filming in them with blue trainers and top. He is a bit of a dandy:
This one's for you, Eliza: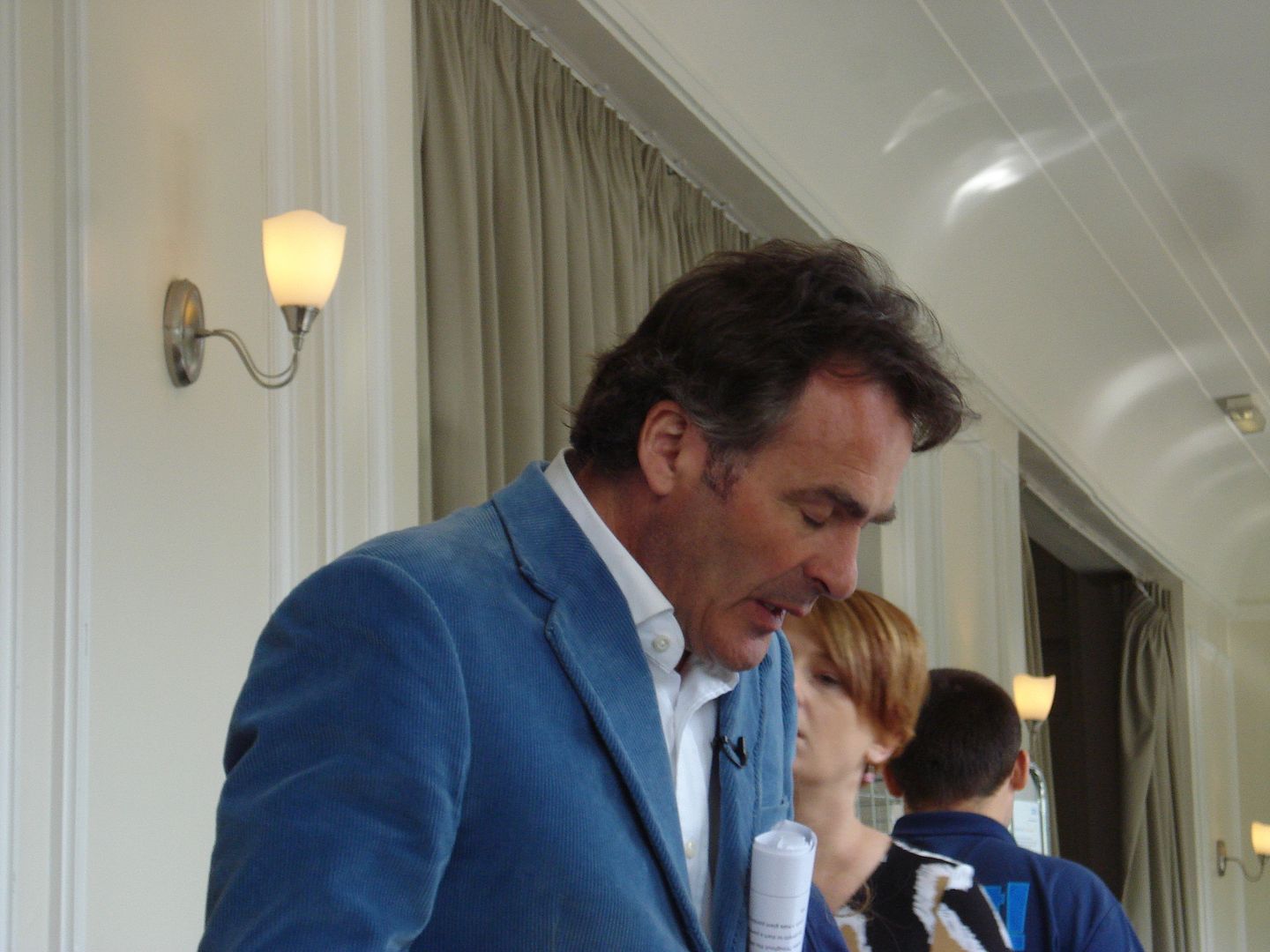 I'd taken a few things along just to be able take part. I had no intention of selling anything. But it turned out that the chain (or Albert, as they are known) of my grandfather's watch wasn't a tarnished piece of tat - it's 9 carat rose gold and worth £300-400. The little fob at the end could be worth £100-150 more all by itself. I felt equivocal about selling, but in the end they chose not to take it. I might now sell it (but keep the watch) at a local auction room, knowing what it's worth. My rings were not very valuable, so I don't need to up the insurance.
My friend's painting, however, got a lot of attention. The off-camera valuer went off to do a bit of research on the back of my own findings, and came back with the information that the painter sells for anything betwen £400 and £4,000. He thought Janet's picture was probably worth £500-700. We were ushered to the far end of the room, behind the valuation tables, to wait with light refreshments for Janet's turn to be filmed.
She wanted me with her for moral support, as she is very nervous and shy. She hadn't even had her picture taken since her wedding 40 years ago! But the painting was so big, there wasn't room for me alongside her, with valuer Catherine Southon on the other side, so I joined the "crowd" behind her (the others were all officials and helpers for the show) and didn't get to use my radio microphone.
The big surprise was that Catherine valued the painting at £800-1200! Janet was stunned.
Can't wait to see what happens at the auction on May 8th (I won't be there, sadly) and I really hope the painting sells, and at the top end of the estimate. It's too big and heavy to take back home, and she doesn't even like it. She also has 16 very destructive grandchildren!
This is the kind of painting the artist Jacques Deperthes does (he was born in 1936 and is still active) but this is
not
Janet's picture:
We arrived at the zoo at 10.20am and didn't leave till gone 5pm, with no lunch and just a drop of tea or water. Now I'm busily devouring everything in sight before collapsing into my bed at the end of a great day.