When the TV channel Quest started up last year, it showed Season 1 of LOCI. It was a Freeview channel, and it still is up to about midnight. Unfortunately for my V-loving friend, it is now cable and satellite only after midnight, and she has neither. She did spot that they are repeating Season 1 at 2am.
I missed Episodes 1 and 2, but I just watched Smothered, and it's great to see early Bobby again. Universal Channel take note!
I still wonder about the plot however. G/E find a silver plate engraved with the name of Lance Van Acker (shipping and airlines, ie. filthy rich) and trace his daughter Priscilla, but when she throws in her red herring about her late husband's will, he seems to have put conditions on the inheritance. Plus the son is called Van Acker too. So by rights, Lance should be Priscilla's father-in-law.
All logic flies out of the window, however, when watching the first appearance of the BTSOH! And it's showing in widescreen.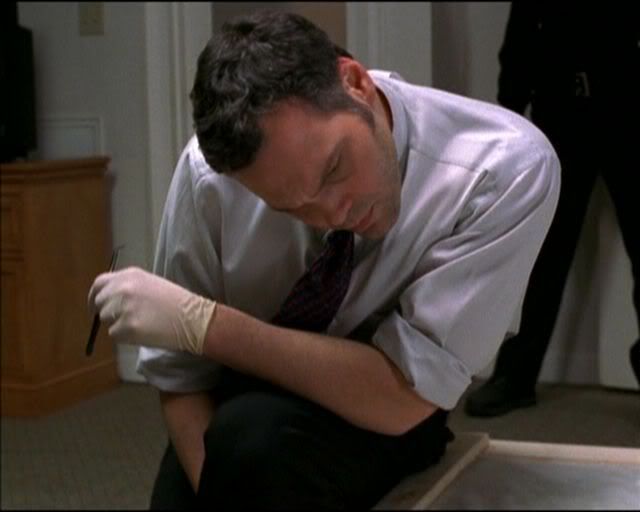 I love Eames' exression when Goren takes her "killed by a shark" quip seriously.