JoJo has mentioned in a comment on another blog that her father and uncles fought in WW2. I'm older than JoJo, but not that much older to make this huge difference in our family histories: two of my uncles fought in WW1.
This is my uncle Fred. His picture reminds me of a very young Dirk Bogarde. He and his elder brother Albert were born at the very end of the 19th century, so they were just old enough to fight at the end of the war. They went to Salonika at the end of 1916. They only recieved their service medals, and as far as anyone knew, they saw no serious action. Fred's son Freddie is still alive, and didn't even know his father had fought until I told him.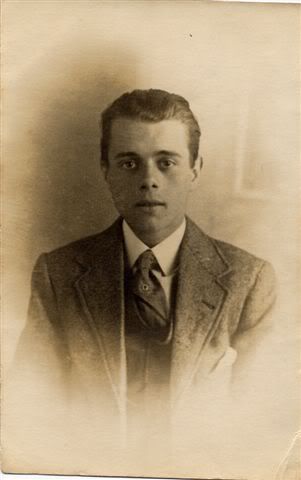 My cousin Albert, son of my uncle Albert, joined the RAF in 1942, and was a communications officer, including in Scandinavia. He too managed to stay clear of serious danger.
I wasn't born till the war had been over for nearly 8 years. My parents were both youngest children (though my dad was 12 years older than my mum) and though married in 1939, they waited till after the war to start their family. I didn't arrive till they had lost a son at birth, had a daughter, then mum had to have a D&C to conceive me, so I am much younger than all my cousins. Except for the three relatives mentioned, no one in my family was of an age to be called up to fight, and the family lost no one during either conflict. That must be fairly rare, given the scale of the conflicts.
But that's in England. I haven't had the courage to enquire about the German side of the family. I know it can be a sensitive matter for some Germans, ashamed of their role or their country's belligerent past.
It does feel weird, though, to talk about relatives who, for others, are much closer to them in age and time than my family members are to me. My paternal grandfather was born in 1868, for goodness sake!
But that's not as good as a woman I met a few years ago, who was not that many years older than me, but whose grandfather had fought in the Crimean War. That was in the mid-1850s. I still can't get my head round that one.