Late last night, my darling, precious cat Shelley died. He was 19 years 4 months and 28 days old.
Shelley, a blue point Birman, was born on April 2nd 1991 and was named Adraylo Katya Kabanova. His first owners named him Phantom, and his brother, Magic.
When they were a year old, I adopted them when their owners were not able to keep them. They didn't answer to their names, so I called them after my favourite poets, Byron and Shelley.
The early days
Shelley plays in a box while Byron gives himself a manicure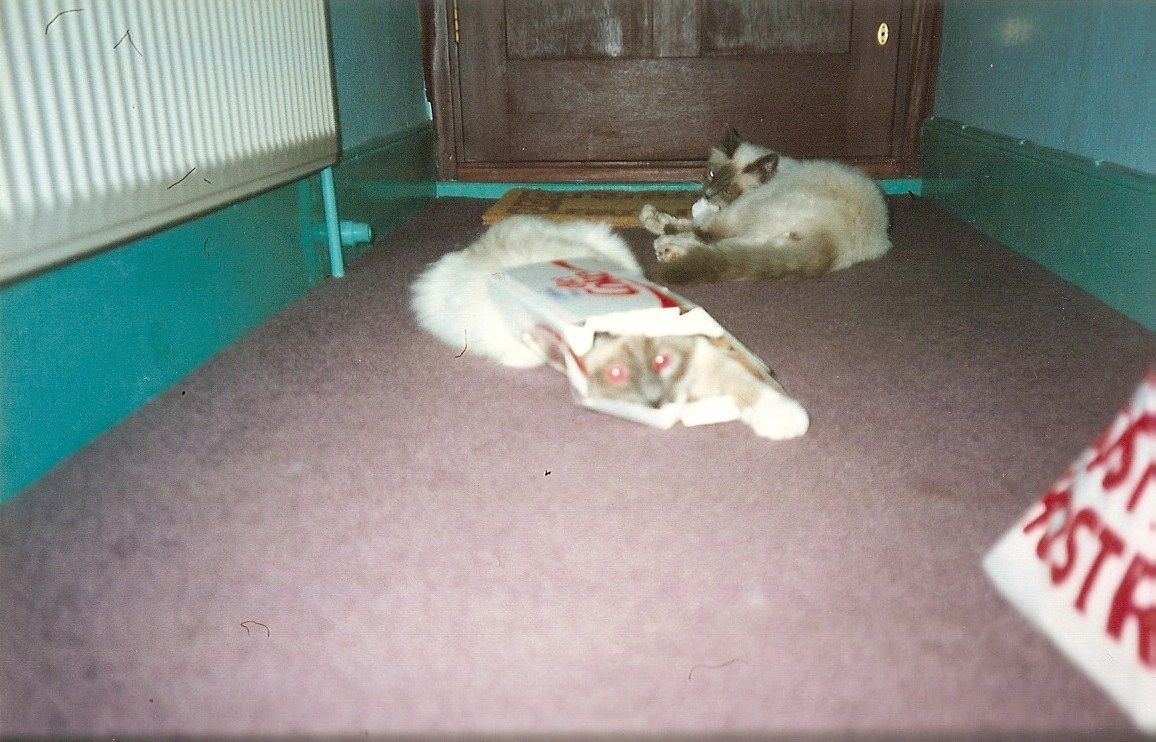 The inseparable brothers curled up in the laundry basket
Shelley is as the top
Four years later, at the age of only 5, Byron dragged himself home with serious injuries one Saturday night. The emergency vet x-rayed him and found a shattered pelvis. I will never know how it happened. He could have found his way to the road and been run over, but he would never have been able to get back home again.
Shelley was the friendliest, most affectionate cat you could imagine. When visitors rang to doorbell, he would run to meet them when my other cats ran away and hid. He played with the window cleaner through the glass. He climbed into workmen's toolboxes, and most would have happily taken him away with them.
He used to visit other people in their homes, and unlike most cats, who flee from children, would play with their kids in the garden.
Shelley loved the garden when he was younger
He never lost his pleasure in stretching out somewhere comfortable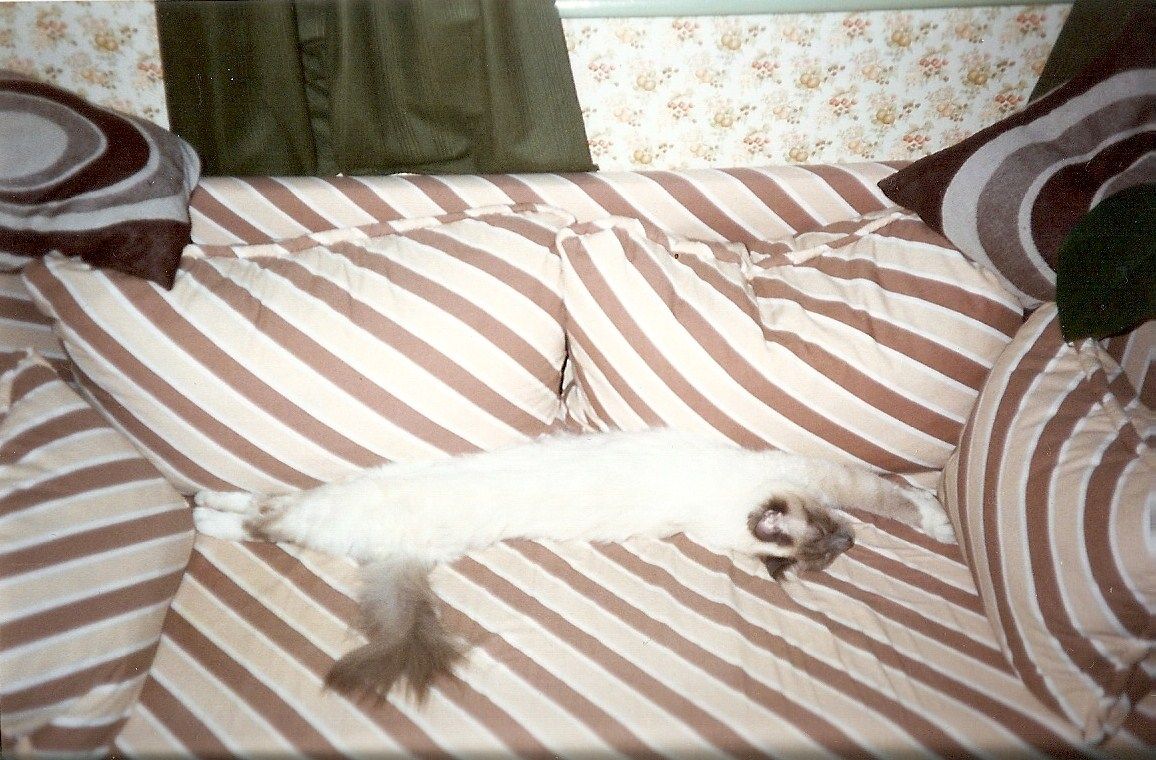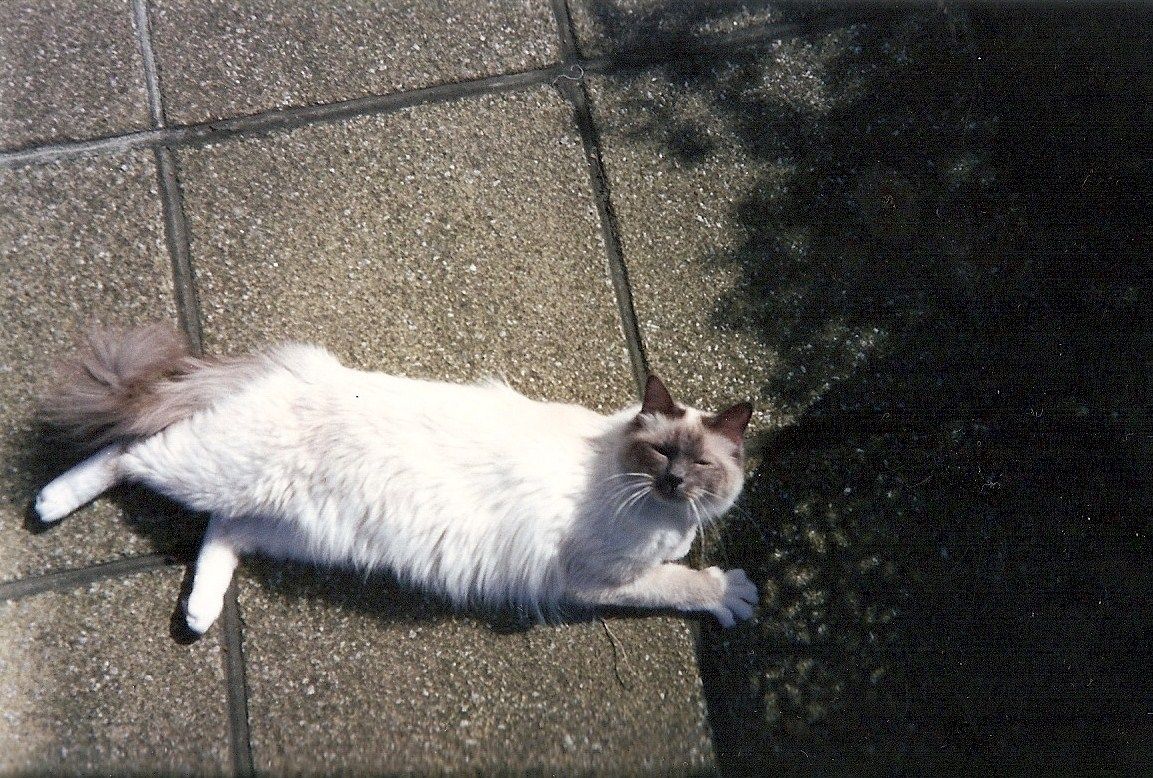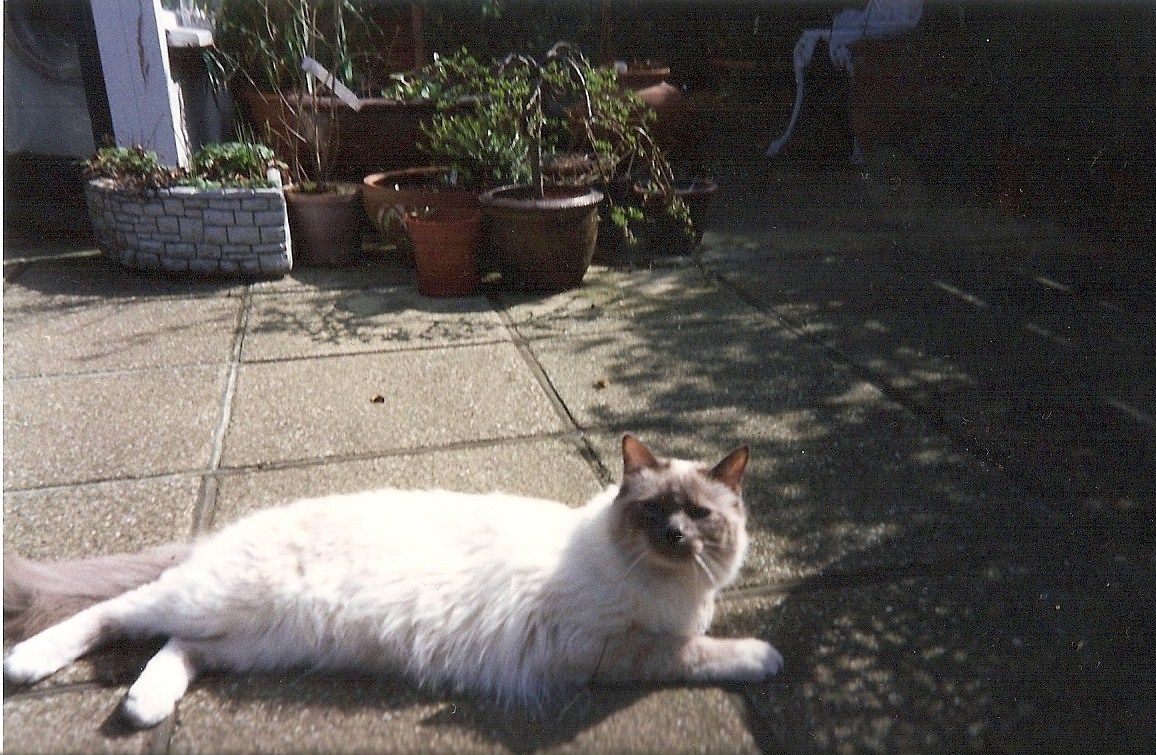 Snuggled in a plant pot was a great place to snooze
As he grew older, he became more frail. His back legs were weak, and when he got an infection 18 months ago, I thought the vet would be unable to save him. But medication, TLC, and a permanent berth on my bed all contributed to his recovery. He has lived on my bed for those 18 months, happy to snuggle down with me under the covers (especially on hot nights when I was having hot flushes) or to pat my face till I turned over to give him a hug.
Shelley on his 19th birthday on April 2nd this year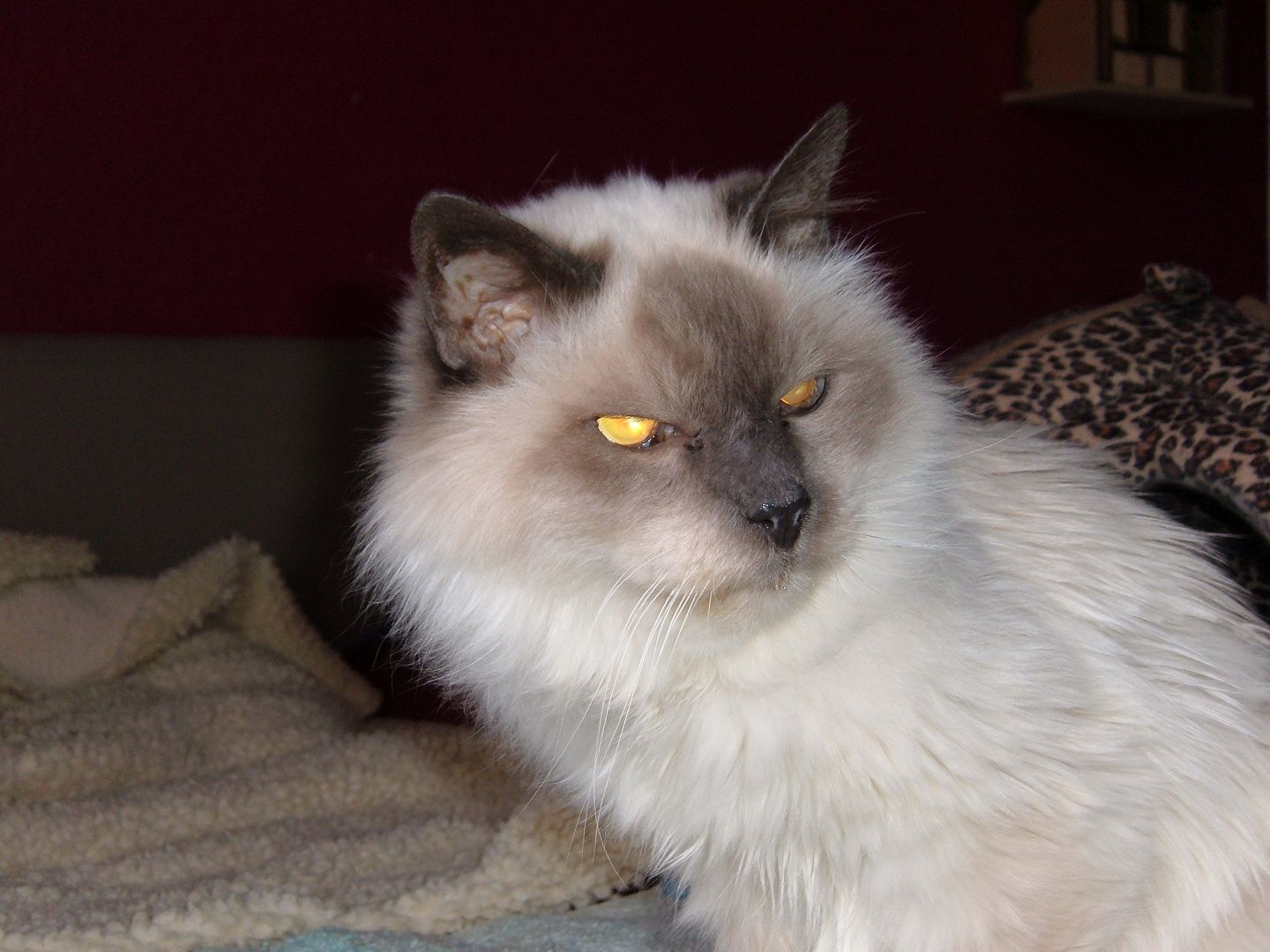 Over the past few weeks, Shelley has become weaker and weaker. His back legs were unable to carry him, and he often dragged himself to his litter tray. I knew the time was coming when he would have to leave me, but I was dreading having to take him to the vet's to have him put to sleep.
When he became severely constipated, he had to have an operation. He managed to survive the anaesthetic. A return visit the following week showed that he had made as good a recovery as could be hoped. Then he flagged once more. The usual vet was on holiday, and his partner "would put him down if he was mine, because he can't walk". But she said his temperature was low, and this signified that his systems were failing. I took this as a sign that I might be able to let him meet a natural end at home.
Over the long weekend Shelley became weaker still. Yesterday he did not eat at all. I thought I would have to take him to the vet's today to have him put to sleep.
But at 11pm last night he made himself as comfortable as he could, and within the hour his little heart had stopped.
He had another dawn than ours.
Goodbye, my darling boy. I will love you forever. Thank you for being my faithful companion. It was an honour to know you.