No, not the 1960s satirical show that launched David Frost's career. Just my week so far. Stick with it, it's worth it.
Monday was a write-off. I had a 2.10pm appointment for a lumbar x-ray to support my boob reduction case.
I got up at sparrow-fart on Tuesday in case I got a call to work, but hoping I could spend a sunny day at the zoo. I got a call to work. On the way home I spent the day's pay (which I don't receive till next week) on vet supplies.
I got up just as early on Wednesday in case I got a call to work, but hoping I could spend a sunny day at the zoo. I got a call to work.
This is casual as-and-when work, for an ASD school I've worked for a lot, but it moved over Easter into a brand spanking new building.
I don't know if US schools still have these in their classrooms (no, not Bobby's hand, the blackboard) but in Britain they are long gone.
We've had interactive whiteboards pretty well everywhere for about 15 years, and before that most places had drywipe whiteboards rather than messy chalk. Well, this school has super-deluxe models where the computer, DVD player, USB ports, electric controls for the windows and anything else you can think of are built in.
The teacher controls it with a remote keyboard which is about a third of the size of a laptop keyboard.
It is the most frustrating instrument I have ever had the misfortune to work with.
The buttons top left are the left and right mouse clicks. The ball at top right is the cursor mover, the rest of the ouse function, I guess. It is the most inexact, difficult to control piece of shit any man could have dreamed up (don't tell me it might have been a woman, we all know it couldn't be so).
There are lots of great sensory things in the playground, but sandpits? The younger kids spend all their breaktime putting it down their own and their friends' necks. Only a matter of time till it goes in some eyes...
Then there are the flower beds. The plants, which haven't rooted yet, never will, as they are a convenient handful to pull out and throw around.
Well, as there is a lot of walking to be done in this new building, and I was standing around cooking for a lot of the time, I was pretty exhausted by the end of Wednesday. But luckily Thursday dawned warm and sunny, and there was no call to work, so off I went to the zoo.
It was worth waiting for.
Firstly, the new male gorilla, Kumbuka, was with young Mjukuu for about the first time. They showed a professional level of acting indifferent. He looks at her, she looks away. He looks away, she looks at him. She circles round him. He pretends not to notice. He sits around nonchalantly, she gathers sacks and carries them up to the highest perch she can find.
I don't think he quite gets alpha male dominance yet.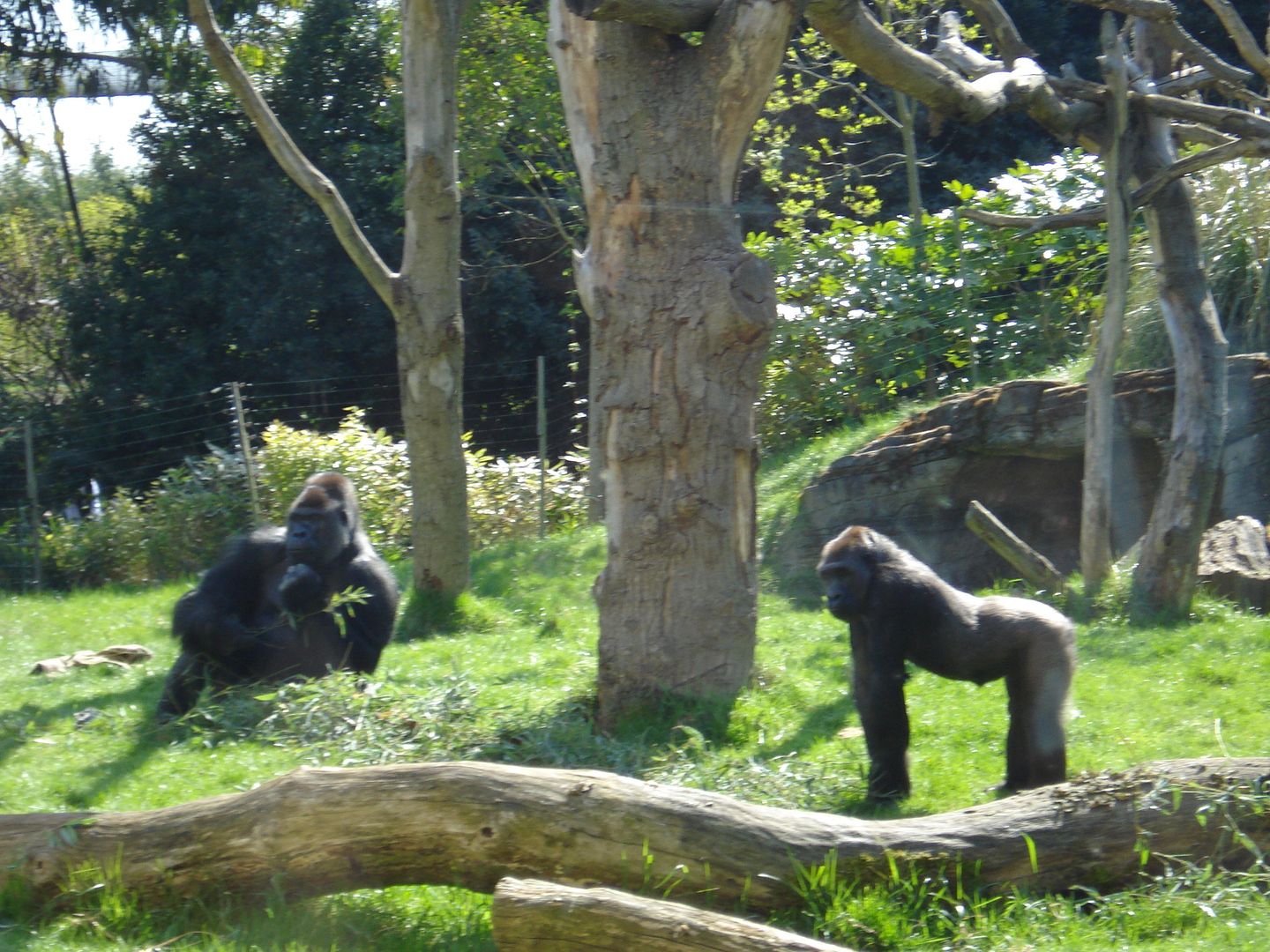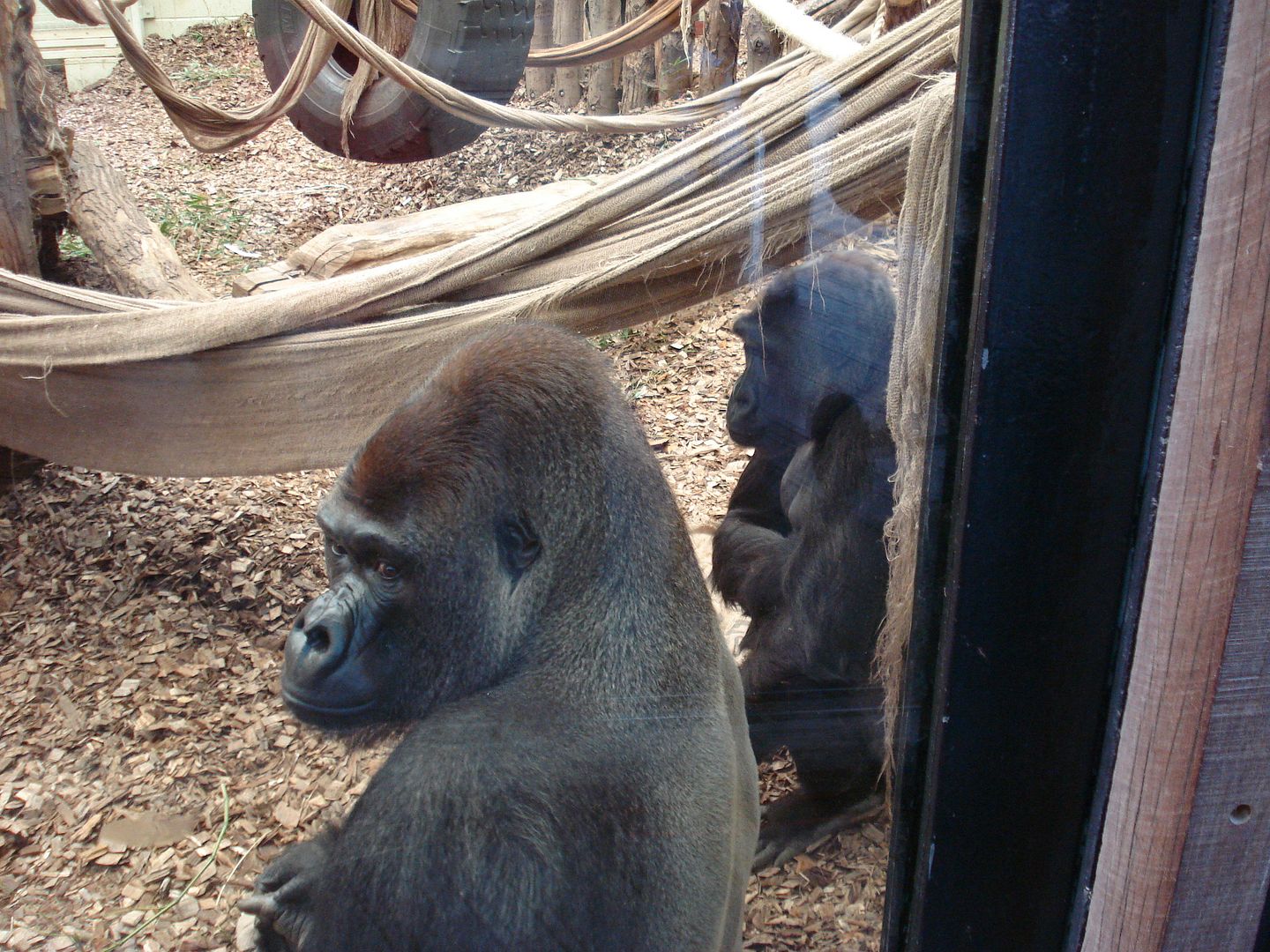 Jae Jae was being particularly fetching. His back was to the window, then he rolled over towards the glass and treated us to these views of his beauteousness.
Jae Jae's enrichment included a piece of meat on top of his climbing frame, with a trail of blood leading to it. I stitched three pieces of video together and shut off the volume, but couldn't convert it into anything usable, so here are three pieces of rough footage for which you might want to turn down the keeper's commentary which is interspersed with crowd noise.
He follows the trail.
He makes his "kill".
He chomps his prize.