A couple of weeks ago I mentioned that the government was planning to close Accident and Emergency and Maternity at my local hospital. It's getting really hard to get anyone outside the local community to sit up and take notice. A march last Saturday was briefly reported as having as few as 2,000 people taking part, whereas best estimates are between 10,000 and 15,000. The news coverage was minimal. It was raining, so the cameras didn't stay beyond the first few minutes, and didn't show the rally at the end or the "hands round the hospital".
Last night there was another public meeting in the local theatre.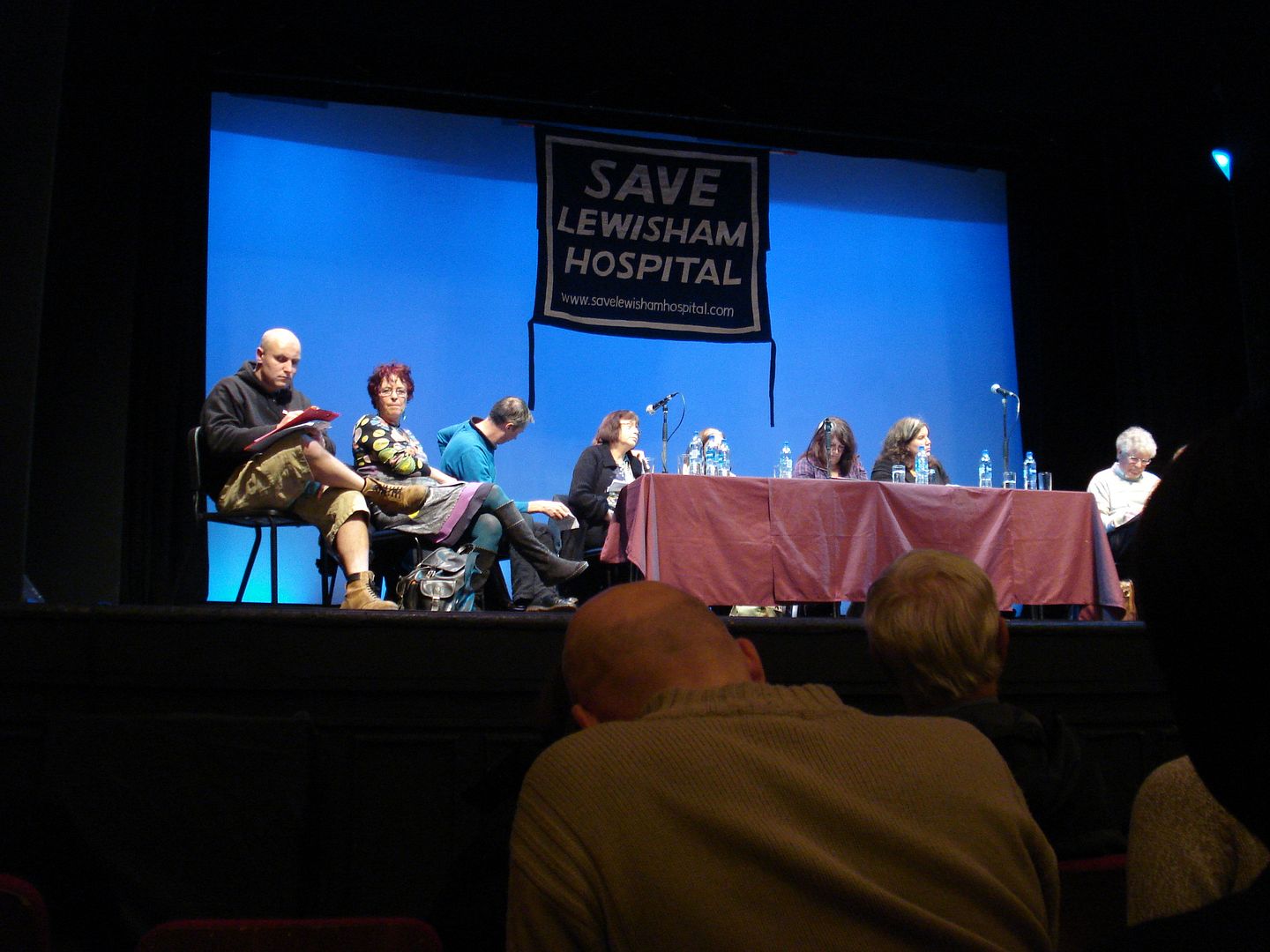 It's clear that the stated aim of "reorganising local services to improve them" is a complete crock. The only plans are those which allow for these closures and the sale of two thirds of the hospital's land to developers. There is an assumption that there will be a fall in the number of people needing these services, though all the evidence is to the contrary. To get to the alternative hospitals, there being no decent public transport and relatively little (and rather expensive) parking, more people will need to call for an ambulance. There is no mention of the effects of the increase in these calls on the mortality rate of people such as heart attack victims. If the ambulance is dealing with another, less critical (but still very serious) case, it will be delayed. People will die. But hey, they won't be Conservative Party voters, so what the heck?
The person who produced the report didn't ask local people about how they would get to the alternative hospitals. They suggested we look on the Transport For London website. Yes, that's the first thing you do when you need to get to hospital urgently. They also consulted Deloitte's, a tax and corporate services company, to come up with travel times for an appendix to the report. Again, these geniuses didn't consult with the people who might be able to give them an accurate answer. They used online information, and came up with timings for conditions of "no traffic". THIS IS LONDON! Such conditions will only apply at about 2am, when there are no buses anyway. Multiply the time by three or four for most of the day.
Sadly, I think the government will nod this through no matter what we do. The only possible hope is that it is supposed to be put into practice over three years, by which time there will have been a general election, and with luck this bunch will have been kicked out and the next lot might listen to reason and stop it in its tracks.
Don't hold your breath there either.
Anyone who wants to see if they can sign the online petition please follow the links on
www.savelewishamhospital.com